TABER CEMETERY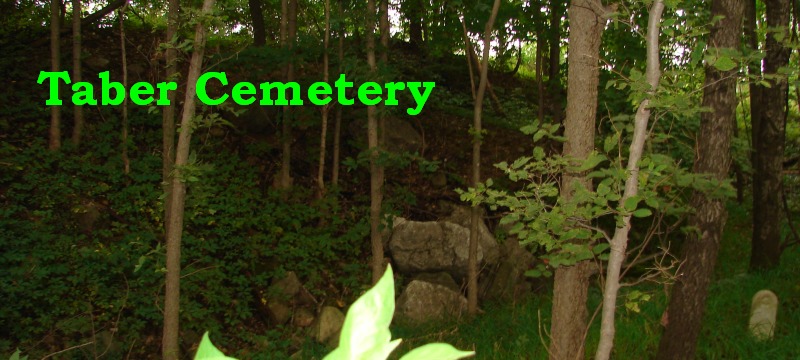 In Washington township of CASS COUNTY , Indiana , this report of March 31st, 1940. Fieldwork by R.B. Whitsett, Jr., of L'ANGUILLE VALLEY MEMORIAL ASSOCIATION, 500 Front Street , and assisted by Harold O. Lytle.

The Taber Family (or Taber Prairie) Cemetery is an out-of-the-way, little known about, and yet rather large, PIONEER burial-ground, which is today used only rarely for burial purposes. It is situated in the NORTHEAST QUARTER of SECTION SIX, Township 26 North, Range two East of Second Principal Meridian. In the northern part of Washington township, Cass county, this cemetery is less than a mile south of the Wabash river, and only a third of a mile north of Morgan Hill Road , a north-and-south thoroughfare which is a continuation southward of Logansport 's 18th Street . (This road climbs the high hill, and continues southward toward the town of Young America , and also converges with the roads leading to Walton, Galveston , and Kokomo .)

Above is an excerpt from the L'Anguille Valley Memorial Association report. Today this cemetery is surrounded by a gravel pit. Fortunately, it has been preserved and is still accessible. It almost seems like an island. For several years, I imagined there might be a cemetery there on that green cluster of trees amidst the quarry and then discovered that indeed, there is one. As you will see, many of the stones are very old and well-worn. Becky and I tried hard to locate and photograph each stone. We likely missed some. The setting is woods and although the growth could have been much thicker and harder to navigate, it was still helping to camouflage fallen stones.

You will notice there are no Taber family stones. These were reportedly moved to Mount Hope; Section 13, lot 579. These are the Tabers listed in the L'Anguille Valley report.

An article appeared in the Logansport Pharos Tribune on Sunday March 3, 1991 about the possibility of moving Taber Cemetery. As of July 2020, it has not been moved. SEE:

"150-Year-Old Cass Cemetery May Be Moved"

| | | | |
| --- | --- | --- | --- |
| Cyrus Taber | 19 Jan 1900 | 13 Apr 1855 | Age 55; b. Rhode Island |
| Deborah Ann Taber | | 15 Feb 1847 | Age 37; nee Coles from Fort Wayne, IN |
| Allen Hamilton Taber | Apr 1834 | 11 Mar 1835 | Age 11 mos; s/o Cyrus & Deborah |
| Humphrey Taber | 6 Jul 1843 | 24 Sep 1869 | Age 26; veteran? |
| William Salter Taber | | 8 Oct 1845 | Age 7; s/o Cyrus & Deborah |
| George Taber | | 6 Sep 1847 | Age 2; s/o Cyrus & Deborah |
Survey and photos by Rebecca Miller and Debby Beheler on September 1, 2006. Photos are for personal use only and may not be used for commercial purposes.