WEST-SMITH CEMETERY
on the south side of Cass County Rd. 650S about 1/4 mile east of Road 300E.
Washington Township , Cass County , Indiana

About 4 miles slightly –North-of-due-West of Walton, IN, and on the W. side of the South Fork of [BIG] Rock Creek; And near the N.E. Corner of W. half of the S.W. quarter of Section 28 in S.E. Washington Twp., Cass Co., IN or Twp.26 N., Range 2 East of the 2nd IN principal meridian; and on the S. side of a little-traveled public highway which runs East-and-West along the Mid-line of the said section, [see the diagram included in this report.] Said to be the oldest American cemetery in Washington twp., and to contain the [now entirely unmarked] graves of numerous pioneer settlers who died during the decade of 1840. This cemetery derives it's name from the deeding in 1861, "in consideration of affection for the dead," to cemetery-trustees headed by Mr. Painter West, by Mr. Alexander Smith, father of Judge John B. Smith of Logansport, the land (which already had been in use as a family or neighborhood burial-ground]. The cemetery is a quarter-of-a-mile or more West or (W.S.W.) of but across the road from the farm-home of Mr. George H. Burkhart, R.R.1, Walton , IN.
The following record (of data from the Grave-Markers) was prepared for the
INDIANA HISTORICAL SOCIETY and the INDIANA STATE LIBRARY by
R. B. Whitsett, Jr., of the "Committee on Pioneer Cemeteries" of the
L'Anguille Valley Memorial Association
Logansport , Indiana
Fieldwork was originally done on June 9, 1942 by R.B. Whitsett, Jr., with assistance from the City Attorney, Leland L. Smith, a grandson of the original donor of the cemetery-land; and in consultation with John E. Small, (son of the late, Emmett Small, long-time cemetery manager), and Mr. G.H. Burkhart of Walton, who live in near the cemetery. Mrs. Anna C. Whitsett assisted in checking the original report. The manager in 1942 was said to be Mr. William Richason, all of rural Logansport .
Cemetery is abt. 7 Miles S.E. of Logansport ; 2 1/2 miles S., 1 & 1/4 miles E., of the Washington Twp., [Cass County] consolidated school; and is less than 1/2 mile N. of State Highway 218 which runs directly E. to Walton and (Bunker Hill), IN.
Editorial comment: James A. West, 1861-1922.
"This unschooled but very widely known and good-hearted, popular, (and uncommonly colorful) member of the Logansport Bar served for many years as the Judge of the Municipal or City Court but died in Kansas after becoming embroiled in political and underworld wars at Logansport." Small Stone, undecipherable.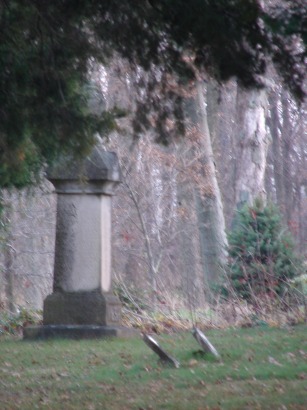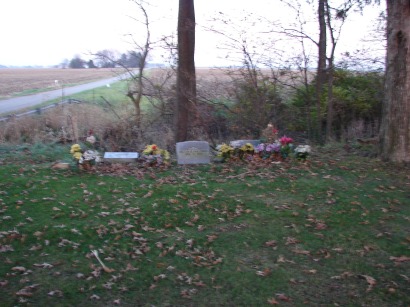 Notes:
Metal funeral marker- undecipherable) & Modern Woodmen of America (M.W.A.)
Stake-like small wooden slab with no inscription bet, R.W. Walters & S. P. Sharp
2-Weaver-family monuments, (one, fan-shaped) & both give just surname
Weaver lot, undecipherable card in metal funeral home marker
Stake-like wooden slab-undecipherable
4 stones that may be lot markers, not graves
3 Undecipherable cards
Crim-undecipherable slab, May be footstone for J.D.
Glass & Metal marker, Peirce & Easterday of Logansport . Undecipherable except for death month (JAN.) & part of the age, 70y. 9m. next to Thomas E. Powell
Vernon , J.C. " Lot enclosed by cement curb in S.E. corner of cemetery upon which his name is conspicuously placed. The lot containing unmarked graves & 2 monuments, neither of those monuments are of the surname " Vernon . The two monuments are for Mary Robinson & Lucinda Coar. " (transcriber note) prob. Dau.'s of J.C. Vernon.
Small stone-undecipherable
Small cement-undecipherable
Small stake like stone, no inscription between Claud E. & Ellis C. Knapp
Small stake like cement marker, unreadable if even engraved next to H. A. West
Pearlie West: at foot of grave is another small stone, possible foot stone or another child's grave.
West lot-6 unmarked graves
West monument: A substantial old gray sandstone abt. 8 1/2 ft. high containing the names of Painter S., Catharine, William E., Margaret A., John W., Mary W., Emaline & Armanda
---
Data input by Pat Fiscel and prepared for the web by Debby Beheler for the Cass County INGenWeb Project. This index is not complete and is a work in progress. Send corrections and additions to Debby.
This site is for personal use only. Commercial use is not permitted without permission.
First uploaded 27 Dec 2006