Marriages of Cass County People in the News
From the Flora Paper

Mrs. William Hafner, this city, announces the marriage of her daughter, Miss Dorothy Breneman to John G. Carithers, son of Mrs. Charles Carithers of Fulton, Indiana. The wedding took place Nov. 30 at East Chicago, the ceremony being performed by the Rev. Wm Whear, pastor of the Methodist Church. The bride is employed at the Golden Rule in Logansport. Mr. Carithers is manager of the Office Cigar Store. At present they will reside at 216 1/2 E. Market Street, Logansport. (1941)


FORMER MARJORIE LOOKER

Mrs. Donald Catt before her marriage was Miss Marjorie Looker, daughter of Harry Looker of Young America, on Sunday, April 11. She is a graduate of the Young America High School in 1946. Residence has been established in Young America

MISS MARJORIE LOOKER BECOMES BRIDE OF DONALD CATT SUNDAY

Miss Marjorie Looker, daughter of Harry Looker of Young America and Donald Catt, son of Mr. and Mrs. Ben Catt of Kokomo, were united in marriage at2:45 Sunday afternoon in the Looker home at Young America.

The Reverend Charles E. Looker, brother of the bride and pastor of the Darraugh Chapel at Kokomo, performed the double ring ceremony while the maid of honor, Miss Phyllis McCloskey and the best man, James Catt, brother of the groom of Kokomo, stood in attendance. The ceremony was performed in front of an improvised altar decorated with spring flowers and potted plants.

For her wedding the bride selected a navy blue bemberg frock fashioned along princess lines, black accessories and a corsage of red roses. Miss McCloskey was attired in a pale yellow crepe ensemble with black accessories and a red rose corsage.

Mrs. Ollie Wilson and Mrs. Wade Louthain, sisters of the bride, attended the ceremony. Mrs. Wilson was attired in a royal blue bemberg frock and a corsage of white carnations, while Mrs. Louthain chose a brown ensemble and a corsage of snapdragons and carnations. The bridegroom's mother, Mrs.Catt, wore a black ensemble with matching accessories. Her corsage was white gardenias.

A reception was held immediately after the ceremony. An attractively decorated white wedding cake was served along with other refreshments.

Guests at the wedding and reception were: Mrs. Ben Catt, Mr. and Mrs. Harold Wikle, Mr. and Mrs. Chester Haworth, Mr. and Mrs. Robert Coan, Reverend and Mrs. Charles E. Looker and James Catt, all of Kokomo; Mr. and Mrs. Dana Looker and children, Buddy and Mary Lou, of Marion; Mr. and Mrs. O.G. Wilson and daughters, Julia, Janet and Kathie, of Galveston; Mrs. Wade Louthain and children, Philip and Carol; Harry Looker and Miss Phyllis McCloskey, all of Young America and Jack Dillon of Deer Creek.

The bride will graduate with the 1946 class of Young America High School. Mr. Catt attended Kokomo High School.

Residence will be established in Young America.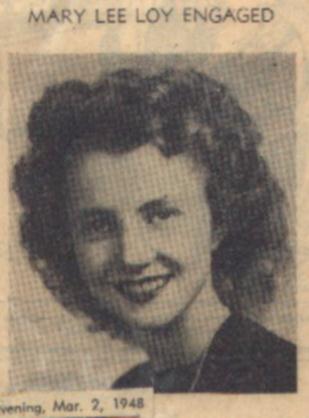 FROM THE FLORA PAPER
MARY LEE LOY ENGAGED TUES. EVENING, MAR. 2, 1948

The engagement and approaching marriage of Miss Mary Lee Loy to Robert Chambers of Young America, is announced by the bride elect's parents, Mr. and Mrs. Charles J. Loy of Flora. The wedding will take place at the Young America Baptist Church on Saturday evening, February 28.Miss Loy is a graduate of Flora High School and attended Butler University, where she was a member of Delta Gamma Sorority. She is also a member of the Flora Chapter of Delta Theta Chi. She is employed in the office of the R.B.M. Manufacturing Company here. Her fiancÚ, who is the son of Mr. and Mrs. Charles Chambers of Young America, is a graduate of Young America High School. He is employed at the R.B.M. Manufacturing Company. (There is obviously something wrong with the dates here but they are as I was given them)


FROM THE FLORA PAPER

Mary E. Gibbs, formerly of this place, and J.W. Clancy of Logansport were married a few days ago at Logansport. (December, 1908)


BURLINGTON BRIDE AND GROOM BOTH PAST 73 YEAR MARK

BURLINGTON, IND., June 12, A wedding in which the bride and groom were past 73 years of age and the attendants were past 80 years old was solemnized Saturday night in Burlington when Mrs. Ellen Flora of Young America became the bride of Frank Clingenpeel of Flora. The attendants were Mr. and Mrs. Jones of Young America.

The Rev. W.R. Deeter, pastor of Burlington First Brethren Church, officiated, performing the single ring ceremony in the Brethren manse. The couple was the oldest Rev. Deeter ever married.

The bride wore a dusty rose crepe frock and white accessories. With it she wore a corsage of white flowers.

Mr. and Mrs. Clingenpeel will reside in Young America. Mr. Clingenpeel is a retired farmer.


FROM THE FLORA PAPER

Herman Cook, son of Mr. and Mrs. Monroe Cook of near Darwin and Miss Mary Morton, daughter of Mr. and Mrs. Isaac Morton, the Darwin merchant, were united in marriage Monday evening by Rev. J.H. Mitchell at the Baptist parsonage in Young America. The marriage of this popular young couple came as a surprise to their many friends. Herman is Mr. Cook's only son and the bride in the only daughter of Mr. Morton. For the present they will make their home with their folks but in the spring will move to a farm. The Press join their many friends in wishing them a long and happy life.


GENEVA BARNARD AND LEO DISHON TO BE WED SUNDAY

Miss Geneva Barnard will become the bride of Leo Dishon in a pretty home wedding Sunday afternoon at 2:30 o'clock at the home of Mrs. Monroe Meade in Carrollton Township. Miss Barnard is the daughter of the late Ross Barnard and Elgie Maggart Barnard, and has made her home since the death of her parents in 1936 with Mrs. Monroe Meade. She is a graduate of Carrollton High School, with the class of '44 and of the Huffer Beauty Academy at Frankfort. At the present time she is employed as an operator at the Peru Beauty Box, Peru. Mr. Dishon is the son of Mr. and Mrs. Charley Dishon, of Walton. He graduated from Young America High School, served 2 years overseas and is employed at the Delco factory at Kokomo. The couple will be at home to their many friends in a neatly furnished apartment in Walton after July 1.



MISS RUTH M'CAIN AND GLENN F. DUNKIN ARE UNITED IN MARRIAGE

One of the prettiest of the early spring weddings was that of Miss Alma Ruth McCain, 22, and Glenn F. Dunkin, 22, which was performed at the home of the bride's parents, Mr. and Mrs. William McCain, in Carrollton township, last Saturday afternoon at two o'clock. Rev. Donald J. Dunkin, of Camden, a cousin of the groom, performed the ceremony, which was one of those unostentatious affairs, only the immediate families and friends being present. The wedding march was played by Miss Mae McCain, a cousin of the bride and special music was furnished by the pastor and Mrs. Dunkin. Following the ceremony ice cream and cake were served. Besides the families the wedding guests included Mr. and Mrs. Donald Dunkin, Lester Quinn, Carl McCain and Misses Mae McCain, and Margaret Guard. During the afternoon the happy young couple left for Kokomo from where they took an evening train to Indianapolis where they remained until Sunday morning, when they left for Chattanooga to spend a few days' honeymoon and to visit points of historical interest. They arrived home yesterday and will make their home for a short time with their parents, at least until Mr. Dunkin ascertains his status in the draft.

The bride is one of the best liked young ladies of Carrollton Township and is the oldest daughter of Mr. and Mrs. William McCain. She graduated from the Flora schools in 1914, later taking advanced courses in the Muncie Normal School and Miss Blaker's School at Indianapolis. The past four terms she has been one of the efficient teachers at Gravel Hill. Mr. Dunkin is the only son of Mr. and Mrs. Winfield Dunkin, of Sharon. He graduated with the 1915 class of the Young America High School. For the past two years he has been associated with his father in the contracting business. Both are highly esteemed and will have the best wishes of their many friends for a long and happy wedded life. The Democrat joins with the many acquaintances in the extension of congratulations.



FORMER PHYLLIS FORGEY [THURS. EVENING, AUG. 1, 1946] Mrs. Herbert Ervin was the former Phyllis Forgey, daughter of Mrs. Osa Forgey of Young America, before her marriage on July 21. Mr. Ervin is the son of Mr. and Mrs. Lucas Ervin of 621 Race Street. The couple have established residence in this city.


MISS BETTY BONE AND DR. JOHN FISH MARRIED IN OHIO

The marriage of Miss Betty Bone, daughter of Mr. and Mrs. Howard D. Bone, of Kokomo, and Dr. John Fish, took place Tuesday in the Church of the Savior, Methodist institution, at Cleveland Heights, Ohio. Dr. Fish is the son of Mr. and Mrs. John B. Fish, of Chagrin Falls, Ohio. Attendants were Miss Betty Fish, sister of the groom, and Whitney Roberts, of Akron, Ohio. The bride was graduated from Kokomo High School and I.U. Nurses' School. She is now a surgical nurse in Maternity hospital in Cleveland. Mr. Fish studied at Dartmouth College and Western Reserve in Cleveland. He is serving an internship in Charity Hospital, Cleveland. They will reside in Cleveland.

Mr. Bone formerly resided in Wheeling and Mrs. Bone in Young America. She is the former Anna Butz.


FROM THE FLORA PAPER

GISH-FLORA

A beautiful autumn wedding took place at the home of Mr. and Mrs. John H. Gish of Deer Creek Township at 5:00 Sunday evening, October 10th, when their daughter, Mary Elizabeth, became the wife of George E. Flora, son of Mr. and Mrs. Charles Flora, of Carroll County. Rev. W. E. Stanley of Young America officiated. The ring ceremony was used. The bride was charming in a gown of white satin and tulle with tea roses. The bridesmaid, Miss Icle Hummel, wore a pale blue crepe de chine and carried tea roses. The room and his attendant, Charles Jones, wore conventional black.

Preceding the ceremony, Mrs. Dale Beck, a sister of the bride, sang "O Promise Me" which was followed by the wedding march by Miss Rive Todd and "I Love You Truly" at the conclusion of the ceremony. Later a two course luncheon was served the relatives and friends who witnessed the nuptial rites.

The bride is a graduate of the 1918 class of the Young America High School, attended Franklin College and for the last two years has been a teacher, the past year being spent as a teacher of one of the Lincoln County, Idaho, schools. Flora is a graduate of the 1916 class of the Burlington High School. He enlisted in the naval service in 1917, serving two years in the World War, and received his honorable discharge in the fall of 1919.

Mr. and Mrs. Flora will reside in Carrollton Township, Carroll County, and will be at home to their many friends after November 1st. (1920)


SATURDAY, JANUARY 14, 1911
MARRIAGE OF PROMINENT COUPLE SOLEMNIZED DECEMBER 22

On the evening of December 22, at the home of Mrs. D.A. Mummert, near Wheeling, occurred the marriage of her daughter, Effie, to Frank Fouts, in the presence of about forty relatives and friends. Rev. N. W. Clark, pastor of Hopewell Presbyterian Church, officiating. After the solemn ceremony was pronounced, which made these two, one forever, elegant and suitable refreshments were daintily served and after a most enjoyable evening the guests departed wishing for Mr. and Mrs. Fouts a very happy and prosperous life.

The bride from childhood has been a member of the Hopewell CHurch and an active member in the Sabbath school. She has also been very active in the Christian Endeavor.....in the society of the young people of the community and will hereafter be missed by her companions and friends.

The groom is a son of Jasper Fouts of Cass County, a most successful farmer. He is also a church worker, being a member of the Center U.B. Church and prominent in the circle of young people of that vicinity.

They have rented the Appleton farm northwest of Deer Creek and will go to housekeeping at once where they will be at home to their many friends.