Clinton Township, Cass County, IN
on the north side county road 400 S at about 460 W
about one quarter mile west off of of IN25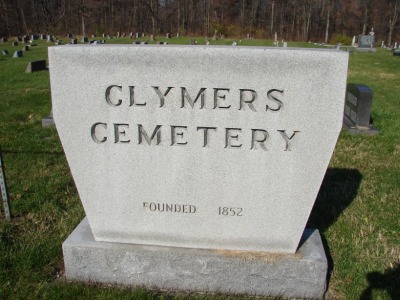 Photographs included in this website were taken on November 9, 2006 by Debby Beheler. Following is the L'Anguille Valley Memorial Association report as transcribed by Pat Fiscel for the Cass County INGenWeb. Contributions, updates, obituaries and corrections are welcome. Email Debby. There are many notes below regarding conflicting opinions of transcriptions, problems deciphering transcriptions, etc.
A-H | I-Q | R-Z
Materials on this website are provided for personal research and are not for commercial use.
---
CLYMERS CEMETERY
Formerly known as EBENEZER OR (CLYMERS METHODIST (M.E.) OR CLYMERS- STATION CEMETERY
S.E. corner of S.W. 1/4 of Sec.7 of T-26N., R-1 E., 2nd IN p.m.in South-Central CLINTON TOWNSHIP , S.W. CASS COUNTY , INDIANA .
Cemetery is abt. 1/4 mile West, of that point on paved State Highway 25 (which runs from Logansport S.W. to Delphi ) & Dillman's Chevrolet Sales Co.
The land for this cemetery was obtained in 1855 & 1905 from Joseph Fitzer & his son, Hugh Fitzer, It lies from a 1/4 to 1/2 mile W. of the Hamlet of Clymers & is on the North side of of the (E. & W.) " Clymers-Station Rd ", (which separates Sec.7 from Sec.18) & is on the South (and West) Terrace of a winding South fork of Keep's Creek, (a Southern tributary of the Wabash River ).
This large & rather beautiful lawn-cemetery is bounded on the North, West & East by forests and on the South by the Clymers-Station Road & across from the E.L. Moore farm & farm-home.
Fieldwork for this cemetery was originally done on April 20, 1941-Sep.29,1941 by
Messrs., Frank Justice of 319 Barron St. , Logansport ( native of the Clymers region)
&
Robert B. Whitsett Jr; 500 Front St. , Logansport , IN., chairman of The L'Anguilla Valley Memorial Cemetery Research Committee. The report was than checked, prepared & submitted by Robert B. Whitsett Jr. for the
INDIANA HISTORICAL SOCIETY
Indianapolis , Indiana by the
L'ANGUILLA VALLEY MEMORIAL ASSOCIATION
Logansport , Indiana
Included in this report will be material noted by our historian Dr. J.Z. Powell when he canvassed this cemetery in 1913 recording the early graves of pioneers & Soldiers interred here & whose inscriptions were nearly undecipherable a third of century ago that may not have been included in the 1942 field-work.
Notes
Metal Marker w/ undecipherable or missing cards for which funeral firm isn't known-17
Metal Marker w/Royal Center, IN Undertaker ?
Metal Marker w/year "1941" rest is undecipherable
Base containing poetry but stone missing/no names or dates
2 very small stones & one seems to mark a G.A.R. Post 14 & flag holder
Old broken monument w/o lettering
Small monument with letters (N.S.) but S looks more like backwards Z.
5 discarded old stone slabs stacked against a fence w/o decipherable inscriptions.
Several lots w/o head-stones or markers of any kind
Headstone w/o any inscription between B.A. Murphy & J.J. Owens
A beautiful little marker of white porcelain & glass containing a very neatly printed [Grimm Funeral Home, Delphi , Ind. ]. However the card for the person interred here is completely devoid of all information as if written in invisible or vanishing ink.
Easterday Funeral Home of Logansport is successor to Peirce & Easterday.
Killian & McKloskey Funeral Home of Logansport-undecipherable card in metal marker-2
Baines? Peirce & Easterday, Undertakers from Logansport, card mostly undecipherable
Bennett, Jennie: This grave has a light-weight-aluminum like metal of some size giving the impression of a Rose with twigs & leaves & inscripted on top of the prominently placed intials of "R.N.A."
Br______, Ella Fern: An unusual, aluminum-like marker shaped in the form of a tennis recket & with black metal letters, some of which are now missing.
Dickerson, Sarah V.: On earlier canvass, a card in metal marker which gave her middle name as Viola & gave d.o.d. as March 14th. Now marker replaced by red granite monument gives only yr of death & middle intial V.
Fitzer, (Joseph & Sarah): The monument & graves it marks were moved here from the private Fitzer burial ground situated abt. 1/2 m. W.N.W. of here. See it's report.
Fossion, Mariah spelling of birth place was as in orig. transcript " Juneetta , PA " sic Juanita Co., PA
Landrey, Hugh M. & Elenor: The method of carving upon this statutory-sized granite monument shows unusual originality & the appearance is quite attractive.
8 ft. N. of the Landrey monument is a deeply buried tiny stone, only the very summit which is visible at all. It may contain initials which are buried below the ground.
PORTER, Harry: Badly weathered little spire carved with a lamb & inscription
Field worker recorded 11-2[4?]-188[8?]- 10-10-188[3?].
Rea Family monument: an unusual altar-like containing graves of John R., Elizabeth (his wife) & 4 of their children. Buried next to them is Eva Rea who could either be their dau. Listed with them in 1870 USC or another Eva Rea aged 15 in the 1870 USC.
3 deeply buried cement stones not dug out for exam as previously dug out markers of the same type were completely devoid of any readable inscriptions.
Rice, Wm.H.: Metal marker by Killian & McCloskey of Logansport , records may supply data.
Runk: deeply buried stone for perhaps this surname bet. J.W.Kendall & Adam Runk
Apparently Adam was m.2x, both wives being named Eliza. Adam's data is carved on the West face, E.J. on the North face & Eliza on the South face of the monument. Date for E.J. reads Mar.
Soncarty, A.E.:Next to him- fallen metal marker
Epitaphs
Fitzer, Martha M.
"I want to be an Angel, And With The Angels Stand, A Crown upon my forehead, and a Harp within my Hand."
Fitzer, Mary
"Tho Thou Art Gone, and Thy Fair form lies mold'ring in the dust, Still Mary: Fond Memory Clings to Thee."
Gordon, Infant Daughter
"Sweet Little Bud, For Earth too Fair, Has Gone To Heaven To Blossom There."
Gugle, Earl T.
"A precious one from us has gone, a voice we loved is stilled. A place is vacant in our home, which never can be filled."
Kennedy, Mrs. Wm., (Emily)
"My Dearest Friends that Dwelt Above I Now have gone to see.
And all my friends in Christ Below Will Soon Come After Me."
Porter, Harry
"His pains are o'er, His sorrow past, Life's armor laid aside. He reaps the great reward at last, In Heaven to abide."
Owens, Mary A.
"Weep Not, Dear Father and Mother, For Me, I am waiting in Glory for Thee."
Soldiers
Buntain, John L… 1845-1938 Civil War Vet…Co.B. 128th Ind.
Calvert, Chas… -1865 Civil War Vet…Co.A. 86th Ind. Inf.
Cohen, Chas. G … Civil War Vet…Co..F.116th Ind.Inf.
Choen (Cohen), Jasper … Marble Govt. marker, G.A.R. Post 14 Co.K. 9 Ind. Inf.
Cohen, Taylor … Civil War Vet. Co.K. 138th Ind.Inf.
Grual, Father: G.A.R. metal marker
Landrey, Hugh M… 1839-1928… G.A.R. metal-falg-holder
Lezenbe, Jesse… d:5/21/1900 Aged 59 Co.H. Ind. Inf.
Parmeter, Joseph: G.A.R. metal marker
Parrish, Dr. Harrison D… SGT., Co. ,A., 150th Reg.,IN.Vol. Inf. G.A.R. Post-14
Porter, Bruce…d: 06/21/1904 aged 21y. Co.G.21st. U.S. Inf.
Quick, Riley… Civil War Vet. Co.H.37 Wis. Inf. G.A.R. metal marker
Rice, Solomon… G.A.R. metal marker
Stumbaugh, J.Kelly...Govt. marble head-stone, G.A.R. flag-holder , Co.H., 128th Ind. Inf.
Stumbaugh, David…This is an old but decipherable & attractive slab. It probably was moved to this location from the Old Fitzer Private Burial ground (abt. 1/2 mile farther N.W.).
The late local historian, Powell, in his quest for graves of Soldiers & Pioneers, (in abt. 1909), found a marked grave in the Fitzer cemetery for a Mexican War Veteran by the name of David Stumbaugh, who Powell says, "died in 1850". Our 1942 canvass of Fitzer cemetery found no such monument but it is recorded here.
Urich, Isaac…G.A.R. metal flag-holder & Corp., Co.A. 93 Regt. PA Vol. Inf. (cross with 6 in it)
Wilkinson, Isaac…Civil War Soldier, Co.A. 72nd Reg. Ind. Vol. died at Murphreesboro , TN
Who died His Country's Rights to Save,
And gained a Soldier's Honored Grave."
2 G.A.R metal flag-bearer markers w/o any names or dates to identify them.
several feet South of Hugh M. Landrey is a G.A.R. Post-14 Metal flag-holder
A-H | I-Q | R-Z
Clymers Cemetery aka. Ebenezer
Cass County INGenWeb
Cemeteries of Cass County
Materials on this website are provided for personal research and are not for commercial use.