ROYAL CENTRE CEMETERY
According to the L'Anguille Valley Memorial Association Report, this cemetery was thought of as a section of Cline (aka. Kline, Klein, Weyand) Cemetery in 1941. Now it is considered as independent from Cline Cemetery. I believe there are many unmarked graves. Some that had temporary markers in 1941 no longer are marked. Obituaries, additions and corrections may be sent to Debby.
575W and 550N NE of Intersection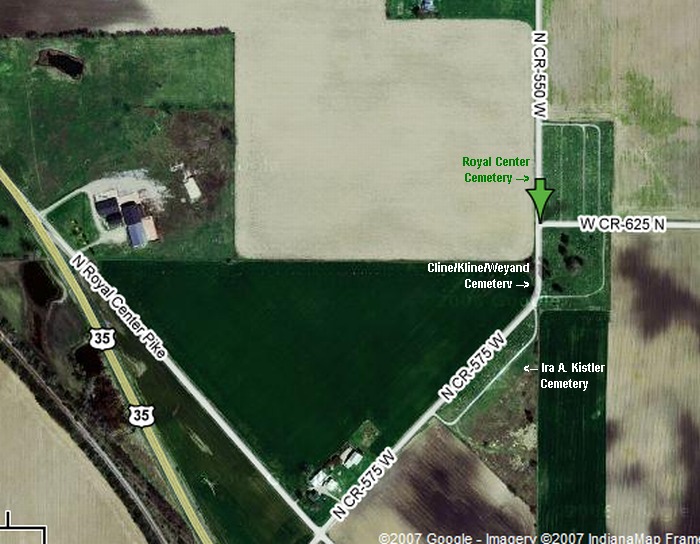 L'ANGUILLE VALLEY MEMORIAL ASSOCIATION REPORT ON

NORTH CEMETERY - CLINE/KLINE & WEYAND CEMETERY

Located in southeastern BOONE Township in Northwestern CASS County , INDIANA . This cemetery is divided by a road which makes it two cemeteries which are often referred to as the "North & South cemeteries & this report will encompass only the NORTH CEMETERY .

This is the portion of the Kline & Weyand cemetery which lies north of the road which runs E. or N.E. thru the S.1/2 of the S.E.1/4 of the S.E.1/4 of Section 24. T28N, R1W in the 2nd IN. P.M. North cemetery is near the north of the S.W. corner of S.W.1/4 of the S.E.1/4 of Section 24. The cemetery is north of a public Highway & east of two roads that "T" at the cemetery's S.W. corner & is a mile or more E. of the [N.W.-S.E.] paved U.S.35 [IN. 29] or the Logansport to Royal Center Road which follows the former "Chicago Hill" route of the Logansport to Winamac & Chicago line of the Pennsylvania [steam] railroad [tracks removed long ago]. The cemetery is less than 1 & 1/2 miles S.E. of ROYAL CENTER [as the crow flies]. Cemetery lies about 9 miles N.W. of Logansport [county-seat] of Cass County .

Fieldwork was done on the " North Cemetery ," October 13, 1941 by Robert B. Whitsett, Jr.-secretary of the L'Anguille Valley Memorial Association, 500 Front St. , Logansport , IN & was assisted by Mr. Bert L. Wilson & Mrs. Anna Cary Whitsett who checked the completed report against the former field notes.

NOTES:

59 undecipherable or missing from metal funeral home markers

1 wooden marker undecipherable

Large cement base; no inscription between G.E.Kerns & R.J. Zimmer

Emblems & Abbreviations on gravestones

Knights of Pythias symbol F.C.B.-Friendship, Charity, Benevolence

M.W.A.-Modern Woodmen of America [2 crossed axes on a shield w/MWA]

I.O.O.F.-Independent Order Odd Fellows-F.L.T. – Friendship, Love & Truth

B.L.E.-Brotherhood of Locomotive Engineers

Ellen Noland: [Headstone closely resembles that of a Government soldier.]

Large Beckley Monument w/o other data sits diagonally so can be seen from both highways. Smaller stones nearby are D.L. Kistler: Mr. & Mrs. A. Ross Beckley, E.L & G.E. Beckley; Mr. & Mrs. Jacob Winegardner.
---
Report and burials from the L'Anguille Valley Memorial Association report transcribed by Pat Fiscel and completed 29 March 2007 for use on the Cass County INGenWeb project site. Photos were taken by Debby Beheler on 21 March 2007 and are personal use only. All data was compiled by Debby Beheler for this cemetery.
First upload 24 April 2007
Updated 17 Octobert 2012
Cass County INGenWeb Home
Cemeteries of Cass County Indiana