Unidentified Cass Co.? School
A response!
A new response! 12 Sept 2004
Can you identify this probable Cass County School? This is a postal card (in poor condition) dated and postmarked in Logansport on October 7, 1908. It is addressed to Miss (or Mrs.?) Zena Benson, Walton, Ind.
The message reads as follows:

I am not coming home Sat. I am going down to Madisons a week from Friday night. E. B.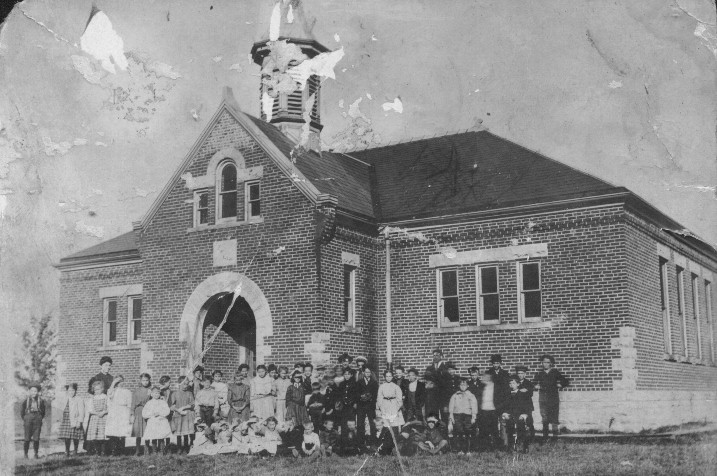 ---
Bonnie Kruk answers:


The school is the Victoria School at Adamsboro. (Unless more than one was built off of the same drawings.) I have looked in detail-- the stone work around the arch -- the curved brick work at the roof line. Victoria School at Adamsboro was part of the Miami Twp. system.
Bonnie asks: "I would love to find photos of the Clinton Twp, District 2, Clinton school-- the Clinton Twp., District 1, Stone School. Do you remember having seen any??"
Does anyone have photos of these schools to help Bonnie and possibly add to the online collection?

---
Gary Hays responds:


The writer of the postcard in question (E.B.) was probably Earl Benson, who was, or shortly thereafter became, a teacher. It was addressed to his sister, Miss Zona Benson, who later married William Edgar Fitzer. Earl's reference that he was "going down to Madisons..." likely referred to their brother, Madison Benson.

---
Email Debby with your answer.
Return to Cass Co. INGenWeb