Off-site Links

:


Howard County Indiana Historical Maps
Courtesy of The Gold Bug http://www.goldbug.com and Animap
---
Howard County was originally formed from parts of Carroll, Cass and Miami Counties as shown in the map below.
---
On June 13, 1844, Richardville County was created. Note the "7 Mile Strip" to the west. This was a Miami Indian Reservation and not available for homesteading at this time. In 1845 the 7 Mile Strip was added to Richardville County, which was renamed Howard County in 1846.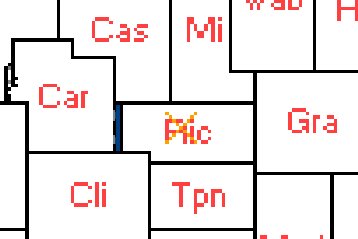 ---
In 1859, Howard County gained part of the north-west corner of Clinton County - shown below in grey. This section became part of Honey Creek Township, in the survey township of Township 22 North, Range 2 East.

Katy Hestand - State Coordinator


Copyright © 1996-2011 - INGenWeb Project
This site is not affiliated with or part of any official Howard County or Kokomo civic website.
The material on this website is is made available for free to the public for non-commercial purposes.