Eel River Chapel Cemetery
A - L | M - Z
This cemetery is located in Jefferson Twp., Miami Co., Indiana. On a treeless, slightly rolling, high ground about three miles down Eel River from Mexico, IN. and less than a mile east of the Cass Co. Line. The Cemetery is across the road from the site of a widely known early New Light Christian Church, brick, which for many decades had one of the largest and most aggressive congregations in the county.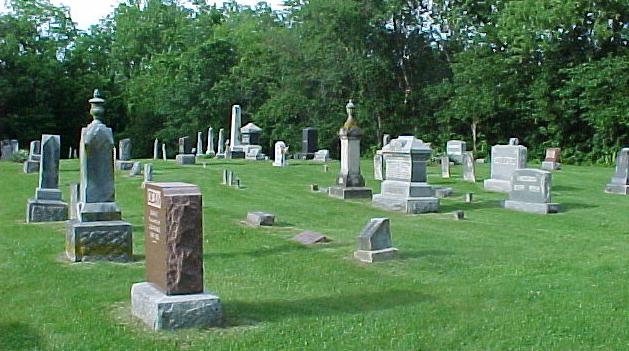 Note for 1887 history of Miami Co., p.668 and Bodurtha's 1914, gives considerable information about the church for which in 1843, this Cemetery was named a church which previously had been known as "Christian Salem Church". It is said to have been the earliest "New Light Christian Church". This denomination has since merged with the Congregationalist to form the Congregational Church, in Miami Co. After meeting for years in various log cabins and other homes and barns, etc, the congregation built, in 1843 a sturdy frame church, and in 1882 replaced with a rather fine larger brick structure. Some decades ago, this was razed, the congregation having transferred to nearby Peru, Mexico, New Waverly, Hoover and other churches. During the world war period, the erection of a large Ordinance Plant employed large numbers of persons and engaged in day and night work with highly dangerous explosives, along the nearby track and sidings of the C&O R.R. greatly lessened the advisability of having church or other public meetings in this locality. Among Pioneer families which organized or belonged to this church in its earliest period those surnames: Cox, Gallahan, Skinner, Reed, Pearson, Myers and Branaman. 1st early clergymen involved were Rev. Adkins, Whiteman and West. All or most of these surnames are well represented in foregoing reports on the cemetery which lies just across a gravel road from the site of this church. During it heyday, this church was found to have people coming to it in horse and buggy, ox cart, on horse back, or on foot. Beginning at the cemetery's southwest corner and working north along the west edge.



Eel River Chapel Cemetery, Miami County, IN
Data contributed by Kim Edgerton; Photos by Debby
Send Mail to: Debby Beheler

Links to: Miami Co. INGenWeb;

Miami Co. Cemetery List;



---
USGENWEB NOTICE: In keeping with our policy of providing free information on the Internet, data may be used by non-commercial entities, as long as this message remains on all copied material. These electronic pages cannot be reproduced in any format for profit or other presentation without permission of the author. This notice must be included on any reproduction.