Cass Co Rd 1075E at abt 400S back a lane (click for map)
Miami Pipe Creek Twp., Miami & Cass Co., IN
This cemetery index is done from a reading done by the L'Anguille Valley Memorial Association in 1942, obituaries, and photographs taken by Edward and Debra Beheler. I welcome your additions to this and other cemetery pages that I maintain. The text is transcribed from the L'Anguille Valley Memorial Association reading as follows:


Mays Cemetery in N.W. corner of [N.W. 1/4 of N.W. 1/4 of] Section 14 of T. 26 N., R. 3 E., OF 2nd Indiana P.M., at west edge of PIPE CREEK TOWNSHIP, at west edge of Miami County with a very narrow [cemetery trustee W.J. Price says 4 ft. wide] strip at east edge of N.E. 1/4 OF N.E. 1/4 OF Section 15, which is in Tipton Township of Cass County, in North Central INDIANA. (In addition, cemetery's parking-lot is in S.E. corner, section 10, Tipton Tsp., Cass County. Fieldwork for the following report was done on June 14, 1942, by R.B. Whitsett, Jr. of the L'Anguille Valley Memorial Association, Logansport, Indiana, 500 Front St., Logansport, assisted by Will J. Price, a member of this cemetery's Board of Trustees, Rural Route 2, Walton, Indiana. [Mr. Price, a former state legislator, married a granddaughter of James Mays, in whose memory................and resides only 1 1/2 miles S.W. of this cemetery.


How to reach Mays Cemetery:
(Though almost entirely in Miami County, the cemetery has its entrance in Cass County; and even funerals from Miami County are obliged to go west into Cass County and then come back east [through Cass County] to enter this Miami County Cemetery!) From the main crossroad of the [Cass County] town of Onward, go north half a mile, thence east one mile and a quarter, thence north half a mile to the now long-abandoned but still belfried brick one-room schoolhouse [known as the "Old Mays or Kinsey, schoolhouse], thence east a quarter of a mile to the cemetery's gate, which is at cemetery's northwest corner. [By road, cemetery is thus 2 1/2 miles N.E. of Onward's main crossroad though "as a crow flies," the distance is only 1 3/4 miles.

Exactly half a mile due east of the Mays Cemetery as a crow flies is the Pipe Creek Brethren Church ["Dunkard"]; but by road, the distance is many times this much.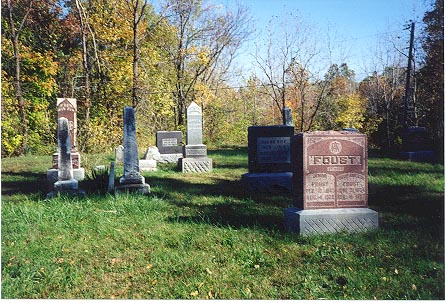 Last updated 20 May 2016 by Debby Beheler
Cheryl Black Kempf and Sue Rife were instrumental in getting information about Mays Cemetery to me for the web.
Mays Cemetery, Added 5 September 1998; updated 3 November 2007
Send Mail to: Debby Beheler
Links to:
Cass Co. INGenWeb
;
Miami Co. INGenWeb;
Cass Co. Cemetery List
Miami Co. Cemetery List
---

© 1997-2008 Debra L Beheler

USGENWEB NOTICE: In keeping with our policy of providing free information on the Internet, data may be used by non-commercial entities, as long as this message remains on all copied material. These electronic pages cannot be reproduced in any format for profit or other presentation without permission of the compiler/author. This notice must be included on any reproduction.