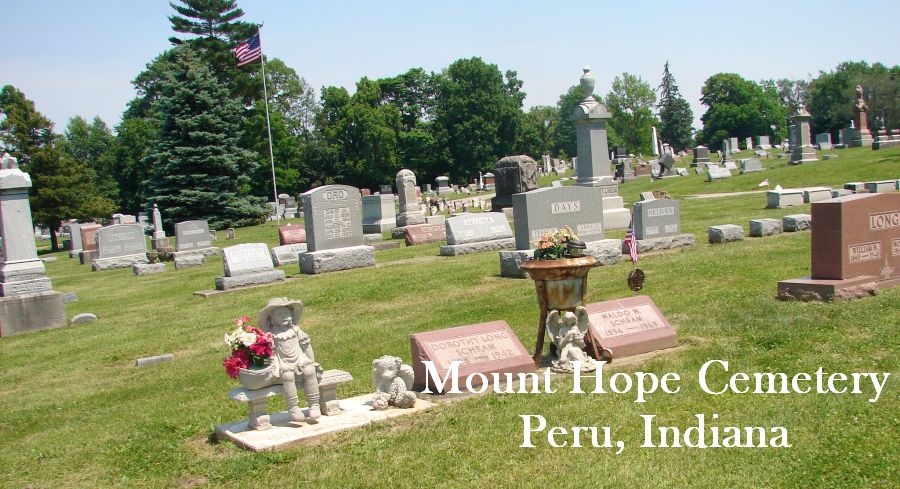 Mount Hope Cemetery, Peru, Miami County, Indiana
This INCOMPLETE database was formed from an extraction done by DeReese Clark in 1955. Data entry was done by Carolyn and Richard Coffman and Connie Stevens, 2005. It was proofread by Regine Brindle. Most photographs were taken by Regine Brindle. And Donna Harrel has joined the team and is inputting data for this site. Also, many photos were taken and donated by Rickey Bellamy. Data was prepared for the web by Debby Beheler using a program by John C. Anderson. Obituaries added by Debby Beheler Whew! It takes a lot of volunteers to put together useful information like this!
Do you have information to add to this data? If so, send it to me at d002b@yahoo.com. I can use obituaries of people buried at Mount Hope. These can be transcriptions or images scanned in jpeg format. I can also use photographs of tombstones in this cemetery. Jpeg format is preferred. This database is in no way complete. I am slowly adding burials not included in the first version. Please send your submissions including name, birth and death dates, tombstone photos and obituaries.
For official records of Mount Hope Cemetery, contact -

Mount Hope Cemetery Association
411 North Grant
Peru, Indiana 46970-1613
Phone: (765)472-2493

This information is provided for non-commerical use only and may contain inaccuracies. Please report any inaccuracies to: Debra Beheler
All photographs are copyrighted by Submitters and may be used for personal use only.
Mount Hope Cemetery, Peru, Miami Co., IN
Cemeteries of Miami County, IN
Miami County, INGenWeb